How to implement urban lighting energy conservation work? Is it possible to carry out energy-saving renovation of urban lighting efficiently under the existing management system? This is a question worth exploring. At present, most of the urban public lighting systems belong to the municipal public utilities, and the nature of public welfare undertakings is mainly governed by the government. From construction to operation, and the maintenance costs in the later period are all borne by the government, with single financing channels, weak facility renewal capabilities, and low operational efficiency.
Due to the large investment in urban public lighting and low return rate, the government's enthusiasm for re-investment in lamp maintenance and energy-saving renovation is not high, resulting in aging of lamps, severe light decay, low lighting rate, and no lights in public lighting in many cities. The phenomenon of no light and no light can not meet the national road lighting standards, resulting in public security and traffic hazards, unable to meet the needs of the general public at night. In the process of urbanization construction, urban lighting construction lags far behind actual demand. At the beginning of this year, the China Energy Conservation Association organized green lighting experts to conduct field research on representative cities across the country and found that many cities have the same problems. Taking Handan City of Hebei Province as an example, the overall illumination of the city at night is insufficient, and the public lighting lacks overall planning. The roads in the urban area are seriously degraded or lack proper lighting, and energy waste is serious.
The EMC contract energy management model can effectively solve the funding needs of urban lighting energy-saving renovation. The National Standardization Management Committee officially issued the "General Principles of Contract Energy Management Technology" (GB/T24915-2010). EMC contract energy management mode is signed by the energy-saving service company and the government to provide energy-saving service contracts, providing energy audit, feasibility study, project design, project financing, equipment supply, engineering construction, personnel training, energy-saving monitoring, transformation system operation, Maintenance and management services, within a certain period of cooperation, the two sides share a certain business model of energy-saving benefits generated by energy-saving projects.
The EMC contract energy management model effectively solves the problem of the existing system and marketization contradiction in urban lighting management. Under the existing monopoly system, the energy-saving renovation of urban lighting is not smooth, the enthusiasm is not high, and the drawbacks are obvious to all, and cannot meet the needs of urbanization. Complete marketization is also not feasible. In nature, after all, urban public lighting has public welfare and commonality. The main body of marketization is enterprises. It is only a means to manage public lighting in cities. Investment is profitable. The government's investment in public lighting is a means to provide high-quality public lighting. Only when the two are combined, the government ensures the realization of high-quality public lighting goals, and the company gains benefits by realizing the government's goals and achieves a win-win situation. Otherwise, there will be lessons in the market-oriented reform of Kunming streetlights.
The advantages of EMC can be summarized as follows: The government carries out energy-saving projects under zero investment, zero risk, zero waste, and high efficiency guarantee; the government can enjoy the energy-saving benefits without saving a penny; save energy costs to pay for enterprise energy-saving projects. The investment cost; the government evades the capital risk, quality risk and safety risk of the energy-saving project; the project participates in the enterprise to guarantee the project energy-saving benefit by the property mortgage; the long-term energy-saving benefit of the government project becomes the statutory responsibility of the project participating enterprise.
The waste energy of the government is transformed into new technologies and equipment for investment; waste energy is used to invest in energy-saving renovation; participating enterprises use new technologies and equipment to exchange energy wasted by the government, turning waste into treasure and achieving win-win. In the case of insufficient funds for government energy-saving renovation, the energy-saving renovation projects can be completed with funds from participating enterprises. Eliminate government pressure on energy efficiency investments and concerns about energy efficiency. In addition to the direct energy efficiency of the project, new technologies and equipment can reduce maintenance costs and reduce fiscal expenditures.
In order to promote the development of China's energy conservation cause, the Chinese government has done a lot of work in policy guidance and financial support. At present, there are thousands of companies that provide energy-saving services under the EMC contract energy management model jointly filed by the National Development and Reform Commission and the Ministry of Finance, which is the main force of China's energy-saving business; the National Green Lighting Education Demonstration Base Project under the China Energy Conservation Association Numerous demonstration projects for green lighting energy conservation have been established nationwide. These enterprises and projects provide a broad platform for cooperation and reference for the reform of urban public lighting management system and energy-saving renovation of public lighting.
Zhejiang Haining and Guangdong Zhongshan have achieved good results through the EMC model of urban lighting energy-saving renovation. The experience of Guangdong Province in urban lighting energy conservation work is worth learning. The provincial government has formulated specific rectification targets based on the actual situation of the province. At the end of 2014, the lighting equipment for the payment of electricity bills in the developed areas of the Pearl River Delta must complete energy-saving renovation, and the underdeveloped areas will complete energy-saving renovation by the end of 2015. The main use is the EMC contract energy management model.
Reasonable planning of urban public lighting, improving lighting quality, using new technology to reduce lighting energy consumption, and adopting EMC contract energy management mode are effective ways to change the current urban public lighting status and implement urban lighting energy-saving renovation.
Woven Wire Screen Mesh is made by different material wires for different usages, here our woven wire screen mesh including Crimped Wire Mesh, copper wire woven screen mesh, shale shaker screen, oil Vibrating Screen Mesh, pig wire mesh. They all can be customized according to clients` requirements. Such as the pig wire mesh, we can produce square hole or rectangular hole type with different sizes.
Woven wire screen mesh material:
Carbon steel, manganese steel, stainless steel
Woven wire screen mesh weaving type:
single crimp/double weave, intermidiate crimp, flat top, lock crimp/press lock, lock slot/triple shoot.
Woven wire screen mesh wire diameter: 1.2mm to 22mm
Surface treatment: hot-dip galvanized, color painting, oil painting
Woven wire screen mesh includes crimped wire mesh, wire diameter can be from 1.2mm to 22mm, opening size can be customized according to usage, and also for the weaving types, the crimped wire mesh has five weaving types that are single crimp/double weave, intermidiate crimp, flat top, lock crimp/press lock, lock slot/triple shoot.
The oil Vibrating Screen mesh material is stainless steel mesh, iron plate, galvanized plate;
Structure is two layers or mutilayer stianless steel mesh, high adhesive is attached the iron plate.
Support mesh: 10mesh-40mesh; filter mesh: 20mesh-250mesh.
Plate thickness: 1mm-3mm; width: 500mm-1290mm; length: 650mm-2000mm.
Plate hole shape: hexagonal type, square type, rectangle type.
The plate painting color can be required.
All mesh materials can be required by clients.
Pig wire mesh
Pig wire mesh material: stainless steel, high tensile steel, high carbon steel, low carbon steel, galvnaized wire.
Pig wire mesh specification:
Wire diameter: 0.3mm-12mm
Hole size: 1.5mm-50mm
Width: 1m-2m
Length: 30m
| | | | | |
| --- | --- | --- | --- | --- |
| Wire Gauge SWG | Wire Diameter(mm) | Mesh/Inch | Aperture (mm) | Weight (KG/m2) |
| 14 | 2.0 | 21 | 1 | 4.2 |
| 8 | 4.05 | 18 | 1 | 15 |
| 25 | 0.5 | 20 | 0.61 | 2.6 |
| 23 | 0.61 | 18 | 0.8 | 3.4 |
| 24 | 0.55 | 16 | 0.1 | 2.5 |
| 24 | 0.55 | 14 | 0.12 | 4 |
| 22 | 0.71 | 12 | 0.14 | 2.94 |
| 19 | 1 | 2.3 | 0.18 | 1.45 |
| 6 | 4.8 | 1.2 | 2 | 20 |
| 6 | 4.8 | 1 | 2 | 20 |
| 6 | 4.8 | 0.7 | 3 | 14 |
| 14 | 2.0 | 5.08 | 0.3 | 12 |
| 14 | 2.0 | 2.1 | 1 | 2.5 |
| 14 | 2.0 | 3.6 | 1.5 | 1.9 |
Weaving patterns: plain crimped, flat top crimped, lock crimped, intermediate crimped.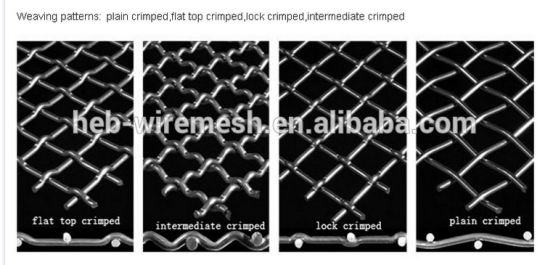 Woven Wire Screen Mesh,Crimped Wire Mesh,Lock Crimped Wire Mesh,Flat Wire Mesh
Anping Huahaiyuan Wire Mesh Co.,ltd , http://www.crusherscreenmesh.com