On March 13, 2014, the "two sessions" ended in triumph. The government work report has guiding significance for China's future development, especially China's economic growth, affordable housing projects and urbanization, and energy conservation and environmental protection requirements, which will bring heavy development opportunities to commercial vehicles.
7.5% economic growth expectation

The government work report stated that in 2014, the situation facing our country is still complicated, and favorable conditions and unfavorable factors coexist. Uncertainties and uncertainties exist in the recovery of the world economy. The adjustment of macroeconomic policies in some countries has brought about variables. Emerging economies have also faced new difficulties and challenges. With the deep adjustment of the global economic landscape, international competition has become more intense. The essential conditions for China's support for development have also undergone profound changes. The deep-seated contradictions have become prominent. They are in the period of structural adjustment pains, shifts in growth speeds, and have reached a critical juncture for climbing over hurdles, and the downward pressure on the economy remains high.
At the same time, we must realize that China's development is still in an important period of strategic opportunities that can accomplish much, with industrialization and urbanization continuing to advance, and there is plenty of room for manoeuvre in regional development. There are also conditions for maintaining high-speed economic growth in the coming period. The main expected target of economic and social development in 2014 is that the GDP growth will be about 7.5%, and the increase in consumer prices will be controlled at about 3.5%. This shows that the core of the national economic work in 2014 is to adhere to stability and progress, reform and innovation. As China's commercial vehicle market maintains a positive correlation with GDP, the stable development of the macro economy will still promote the development of the commercial vehicle market.
Safe Housing Project and Urbanization Construction

The government work report stated that the central budget investment is planned to increase to 457.6 billion yuan, focusing on areas such as affordable housing projects, agriculture, major water conservancy, railways in the Midwest, energy conservation and environmental protection, and social undertakings, and the government's investment will be promoted. effect. At the same time, it pointed out that more than 7 million sets of new housing construction projects will be started this year, including more than 4.7 million sets of shanty towns, and construction of supporting facilities will be strengthened. Increase the proportion of affordable housing in big cities. Promote the operation of public rental housing and low-cost housing.
Governments at all levels must increase financial investment, improve the quality of construction, ensure fair distribution, improve the access withdrawal mechanism, and basically complete 4.8 million sets of security housing during the year. To classify and control different urban conditions, increase the supply of small- and medium-sized commercial real estate and shared-property housing, curb speculative investment demand, and promote the sustained and healthy development of the real estate market.
The government work report also continued the reform idea of ​​the Central Urbanization Working Conference, and proposed to speed up the construction of infrastructure such as transportation, water conservancy, energy, and municipal facilities, and enhance the development potential of urban agglomerations and urban development in the central and western regions. We will optimize the urban structure of the eastern region and further improve the quality and level of urbanization. New projects and new urbanization will drive the construction boom of various local governments, which will play a positive role in improving the end-use demand of the commercial vehicle market.
Energy Saving and Environmental Protection Requirements

The government work report pointed out that heavy fists will strengthen pollution prevention and control and promote new energy vehicles.
Focusing on mega cities and regions where smog is frequent, taking the control of fine particulate matter (PM2.5) and particulate matter (PM10) as breakthroughs, we will seize key links such as industrial structure, energy efficiency, exhaust emissions and dust, and improve the government. , enterprises, and the public participated in the new mechanism, implemented joint prevention and control at the regional level, and thoroughly implemented the air pollution prevention action plan. This year, we need to phase out 50,000 small coal-fired boilers, promote 15 million kilowatts of desulphurization for coal-fired power plants, convert 130 million kilowatts of denitrification, and transform 180 million kilowatts of dust removal, and eliminate 6 million yellow-label cars and old cars. Standard car diesel.
The comprehensive supply of standard four-vehicle diesel fuel provides conditions for the heavy-duty truck market to fully implement the Fourth National Standard; the elimination of six million yellow-labeled vehicles and old cars will also accelerate the replacement of automobiles, which will give commercial vehicle development. Bring new opportunities. In addition, under the environment of energy conservation and environmental protection, some cities have begun to vigorously promote new energy vehicles, new energy vehicles or usher in an opportunity for further development.
Working principle:
This machine is made of stainless steel and food grade plastic (PP). It has automatic function of the automatic feeding and stop feeding by control circuit and hopper control. The machine can be widely applied in vertical convey for solid food, such as foodstuff, feedstuff and so on. This machine has large conveying capacity, high conveying height . It`s always used in convert with the automatic packaging system in the food packaging industry.

Advantage:
1. The bucket is made of food grade PP material,which can resist the high or low temperature.

2. The Bucket Elevator can supply good solution not only for single discharge but also for multi-discharge.

3. Easy to operate and clean.

Application: Bucket Elevators are widely used in food, agriculture, pharmaceutical, cosmetic, chemical industry, .such as snack foods, frozen foods, vegetables, fruits, confectionary. Chemicals and other granules.
Our machines have an automatic 12 months guarantee against faulty material and workmanship valid from the date of dispatch in China or date of arrival at foreign border.

If any problem of the machine under instruction within one year, we are responsible for replacement incuding delivery fee and maintenance.

Lifelong service is offered with cost charge after one year.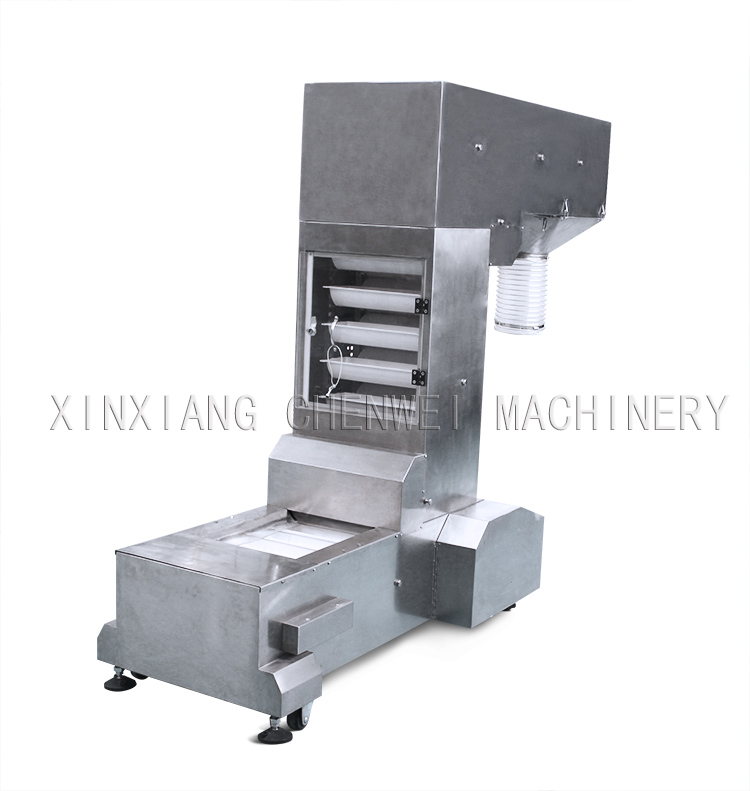 Z Shape Bucket Elevator ,Bucket Elevator,Chain Bucket Elevator,Bucket Elevator Conveyor
XINXIANG CHENWEI MACHINERY CO.,LTD , http://www.cwsieve.com