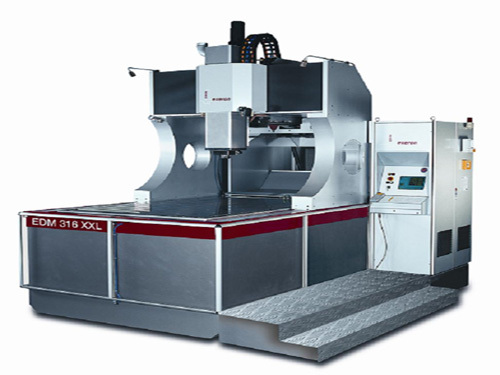 "The research and development and manufacturing technology of ultra-precision machine tools is a cutting-edge technology that will lead the machining precision of machine tools to the intensive progress of technology areas that have not been involved in humans. The application fields of ultra-precision machine tool technology have expanded to many aspects of our daily lives. , and is enriching and changing our lives." Liu Bingye, director of the Beijing Machine Tool Research Institute, pointed out at the high-end forum of the China Machine Tool Development 2014 held on June 19, "When we look at the complicated processing equipment in the manufacturing industry, we It should be noted that there is one type of machine tool that rarely appears in an industry exhibition, but it is a machine tool that developed countries attach great importance to and take measures to control. This is an ultra-precision machine tool, and ultra-precision machine tools embody the competitiveness of a national precision technology. "

High-precision is the mainstream trend of CNC machine tools. "In the past 30 years, the world-wide machine tool technology has been developed to a great extent. The development trend of machine tool technology has also exhibited diversified features, such as high-precision trends and high-speed motion. Trends, multi-movement axis trends, high reliability trends, multi-functional composite trends, reconfigurable trends, low-energy environmental protection trends, and intelligent trends, but in all trends, the most able to reflect the development The mainstream trend should be high-precision and intelligent." Liu Bingye emphasized that high-precision is the mainstream trend of CNC machine tools, and the accuracy of ultra-precision machining is one order of magnitude higher than that of precision machining.

In fact, the technical field involved in ultra-precision machining technology is very rich. In the course of more than 30 years of research in the Beijing Institute of Machine Tools, Liu Bingye systematically summed up 36 key frontier studies and 11 leading core technologies for the related technologies involved in ultra-precision machining technologies. Among them, the key frontier research includes six aspects of design, moving parts, measurement analysis, process technology, host manufacturing technology and machine tool application condition technology. Leading core technologies include: manufacturing technologies for key structures of precision ultra-precision spindles, manufacturing technologies for key structures of precision and ultra-precision linear motion components, high-resolution motion-driven technologies, machining process manufacturing techniques for key machine parts of machines, and feature technologies for components to withstand external disturbances The structure and manufacturing technology of high-stability and rapid linear motion, the nested structure design technology of multi-axis machine tools, and the integrated manufacturing technology of machine tools for target parts manufacturing.

"There are three key technologies that cannot be avoided in the development process of machine tools from micron to nanometer precision. These three technologies are also the research threshold for nano-precision machine tools." Liu Bingye said that one of the technologies is a bearing technology without hysteresis. Hysteresis phenomenon exists in a large number in mechanical systems. Hysteresis not only seriously affects the accuracy of the positioning accuracy and repeatability of the machine slides, but also affects the high resolution of the movements. It also affects the precision and surface roughness of precision parts. . The hydrostatic bearing technology can solve the phenomenon of mechanical hysteresis well, and can homogenize the geometric error, and get a lot of applications in ultra-precision machine tools. Hydrostatic technology has made significant progress in the past decade, and self-compensation feedback technology has become more mature. The flow control throttling technology has greatly improved the stiffness of hydrostatic bearings, and the hardness of materials processed by ultra-precision machine tools has been continuously improved.

The other two key technologies are high-resolution drive technology and micro-vibration processing technology in mechanical systems. Nano-scale resolution is a feature of ultra-precision machine tool performance in the past decade or so. There are many factors that influence the motion. At the same time, a large number of experimental studies have found that vibration signals of the order of 10 nanometers are present in many mechanical actuators and cause disturbances in the execution and determination of mechanical sensitivities. Such vibrations are called microvibrations. "In-depth research on the mechanism of micro-vibration and the search for solutions are the only way for ultra-precision machine tools to reach nano-precision," said Liu Bing-ye.

Satisfy the application needs of ultra-precision technology "China's aerospace and remote sensing, laser fusion, defense weapons systems, astronomical exploration and other advanced technologies, the demand for large-diameter aspherical optical components is increasing, but some high-end optical processing equipment and technology abroad Embargoes are being imposed on our country.At present, China's large-aperture non-spherical parts processing technology has been carried out with relevant scientific research work, but its maturity is still low. At the same time, the accuracy of self-developed equipment is lower than that of foreign countries, and the efficiency of superior units is effective. Inadequate cooperation also has problems such as the combination of the processing of large-aperture optical parts and ultra-precision machining." Jiang Zhuangde, an academician of the Chinese Academy of Engineering, also put forward urgent demand for ultra-precision machining and measurement technologies and equipment in China.
Environmentally Friendly Polyolefin Heat Shrink Tubing
Product description:
Environmentally friendly polyolefin heat shrink tubing is made of polyolefin material, Thin wall cable protection heat shrink tubing it has the function of insulation and protection.Flexible thin wall polyethylene heat shrink tubing it applies to electric components, coating of the wire harness, and protection of the terminal junction of the electric wire and cable, at the same time, thin wall heat shrink tubing it also has the function of color identification. It's widely used in electrics, electronic industry, electrical industry, etc.
Feature and benefit:
Our Shrink Tubing feature and benefit :Shrink ratio is 2/1 with flexible, low shrink temperature,excellent physical and electrical performance.
Free of PCBs, PCPs, polybrominated biphenyls (PBBs), polybrominated biphenyl oxides and ethers (PBBOs, PBBEs and PBDEs) and toxic heavy metal compounds, which are classified as environmentally hazardous substances. Conform to European RoHS environmental directive.
Our Thin Wall Shrink Tubing Feature and Benefit:
Shrink ratio is 2/1 with flexible, low shrink temperature,excellent physical and electrical performance.
Up to standard: Approvals
Meet UL224 125 degrees Celsius 600V VW-1
Operating Temperature Range:
a) Operating temperature range: -55 ~ 105 degrees Celsius
b) Minimum shrink temperature: 60 degrees Celsius
c) Minimum full recovery temperature: 100 degrees Celsius

Ordering Information:
Color:Standard: Shiny black, clear, white, red, blue , yellow, green
Nonstandard: Brown, orange, violet, gray
Nonstandard size:Special sizes are available upon request.
Standard packaging:On spools. Cut pieces are available upon request.
Ordering description:Specify product type, size (mm or inch) and color.
Product picture: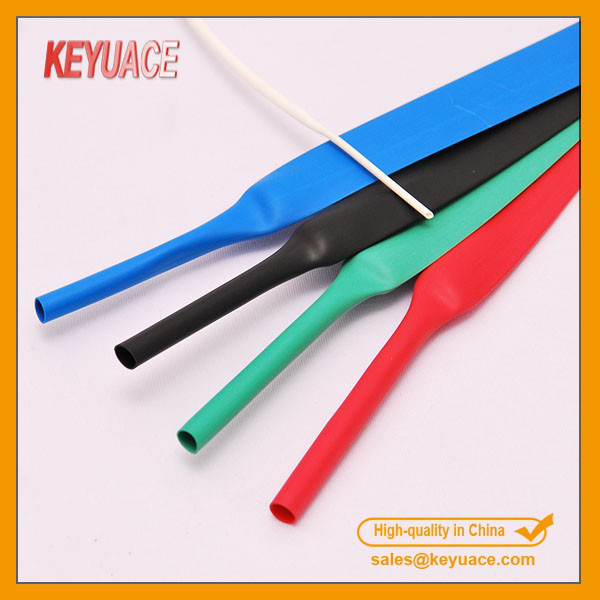 Avg. Wall thickness = (max. Wall thickness = min.Wall thickness)

Thin Wall Heat Shrink Tubing,Ultra Thin Wall Heat Shrink Tubing,Thin Heat Resistant Shrink Tubing,Thin Wall Polyolefin Heat Shrink Tubing,Waterproof Heat Shrink Tubing,Heat Shrinking Thin Wall Tubing
KEYUACE Materials Co., Ltd. , http://www.insulationtubing.com