China's tire exports often face "double reverse" investigations. Wang Feng, Chairman of Fengshen Tire Co., Ltd. expressed his opinions. "We must take effective measures to actively respond and implement differentiated competitive strategies based on the maintenance of cost-competitive advantages."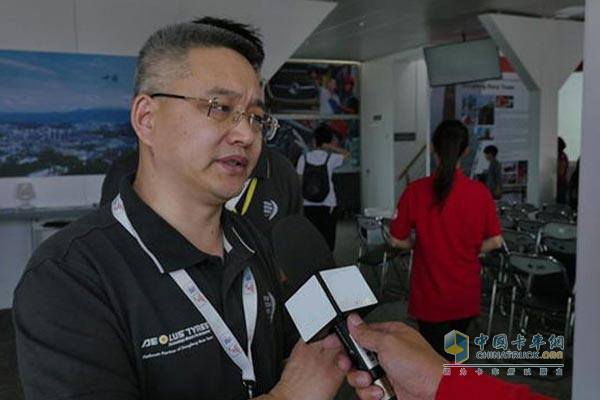 Fengshen Tire Co., Ltd. Chairman Wang Feng
Today, a number of countries in the world, including Australia, Brazil, Peru, and Egypt, have launched anti-dumping investigations on the export of Chinese tire companies. Industrial upgrading has become the direction of Chinese tire companies.
As a listed company controlled by China National Chemical Corporation, Aeolus Tire focuses on the R&D and production of Chinese tire products for 50 years, and has accumulated the power to achieve the "quality" improvement of Fengshen tires. In recent years, Fengshen Tire has gone ahead of other Chinese tire companies in the process of internationalization. "We hope to create national brands, not just simple sales of products, but we also need to participate in international competition," said Wang Feng, chairman of Fengshen Tire Co., Ltd.
In the fiercely competitive European market of the tire industry, under the premise that the big brands such as Michelin and Princeton accounted for 80% of the market, Fengshen tires actively expanded the European market and currently has 3% market share in Europe. "Technology Upgrade", Aeolus Tyres has successfully gained a share in the European market.
Since the 1980s, Fengshen Tire has become a partner of Dongfeng Motor. Until 2014, it has been a strategic supplier for Dongfeng Commercial Vehicle Company for 14 consecutive years. Last year, for the first time in the world-renowned sailing event Volvo Ocean Race, the world-class sailing team formed by the Chinese company Dongfeng Commercial Vehicle Company appeared. The team was jointly supported by Fengshen Tire and the Shiyan City Government in Hubei. Fengshen Tire, as a strategic partner of Dongfeng, provided support for the competition as a useful attempt to display the image of Chinese companies and achieve brand breakthrough.
The Volvo Ocean Race, known as the Everest of the Seafaring World, is currently the most influential and challenging offshore sailing competition in the world, and it is also known as "F1 at sea". The event is held every three years and has been held for 12 times. On January 27, 2015, the "Dongfeng" sailboat assisted by Fengshen Tire made its first approach to the finish line in Sanya and won the third stage of the 12th Volvo Ocean Race—Abu Dhabi to Sanya Stage winner, this is undoubtedly a day in the history of Chinese sailing.
Nowadays, Aeolus Tire knows well how to participate in international competition. The promotion of brand awareness and reputation is particularly critical. Wang Feng said: "This time, Fengshen and Dongfeng represent Chinese companies and join hands to challenge the Volvo Ocean Race. It is also a brand-new approach jointly created to enhance China's national image."
So what is laser engraving? The term [laser" is an acronym for Light Amplification by Stimulated Emission of Radiation. Basically a beam of light is reflected through a series of mirrors, that points the beam downward through a focus lens which is designed to concentrate the light into heat at an exact point. That point where the laser touches the surface is called the [focal point" and is where the heat is most intense. This focal point is less than a millimeter in size, however the diffraction of heat upon contact with the surface usually equates to roughly 1/200" in actual cutting accuracy. We produce cnc router machines for many years. How does laser engraving drifter from traditional printing? When you print something traditionally you add ink to paper. This is the opposite. We use the laser to remove material and what is normally [printed" will be cut away from your card with visible depth and texture. By varying the intensity of the beam, we can engrave at different depths, or even cut all the way through the material for a unique edge or die cut look. Another great thing about this process is that it does not involve any bits, blades, ink, or other components that need to be replaced, which allows us to ensure that each and every card is consistent in it`s look and end quality. We also offer full color UV printing which can also be done with laser engraving for a unique pairing.

Laser Engraver,Cnc Laser Engraver,Laser Cutter Engraver,Metal Laser Engraver
JINAN XUANLIN MACHINERY CO., LTD. , http://www.cncfiberlaser.com