Shanghai - In the 130th anniversary of the establishment of the Group,
Bosch
opened a new round of corporate brand communication activities in China to showcase its brand new position and image. The whole event starts from the perspective of end-users on the brand experience, with the theme "Your beauty is good, Bosch is here to help you". It means that in today's busy work and life, Bosch is always on hand to bring people a simple life. Beautiful. This year marks the 12th year of Bosch's continuous corporate brand communication activities in China. It also fully demonstrates Bosch's deep commitment to the Chinese market and long-term development.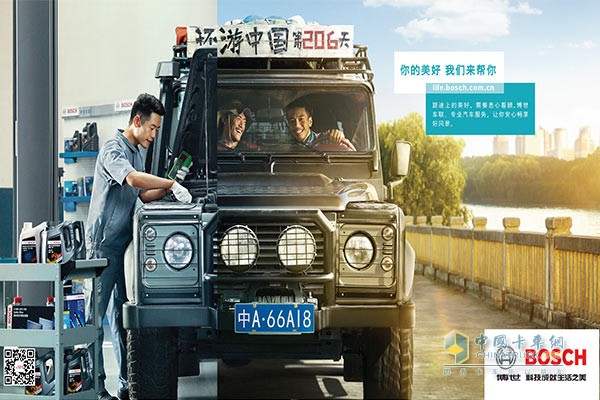 Your beautiful, we will help you
Jiang Jian, Vice President of Bosch China Corporate Communications, stated: "With the development of the market and changes in customer needs, innovative technology is no longer the only factor in achieving business success. In the future, the brand will become a more important force. How to make Bosch's The brand is more attractive, and gaining more recognition and love from Chinese consumers has become an increasingly important part of Bosch's strategy. This is also the purpose and original intention of our new round of brand promotion in China."
This round of corporate brand communication activities also spread Bosch's new brand positioning to a wide audience. As a partner that helps global customers and consumers, Bosch is passionate, inspirational, pragmatic, and trustworthy, serving the market with quality, superior products, global distribution, and corporate responsibility. One of the visual manifestations of this brand positioning is the new brand image design that Bosch released globally earlier this year. The more perceptual and colorful brand image reflects Bosch's flexible and diverse product and service concept, as well as the changing trend of the Internet of Things business strategy. This new Bosch TV advertisement and print advertisement is based on the brand-new positioning. It uses the new brand image design as a carrier to interpret the theme "Your Beauty, Bosch Helps You" with a beautiful picture of life. It is worth mentioning that for the first time, Bosch ads included sensor-related products, which clearly demonstrated the Group's determination to expand in the area of ​​interconnection.
Since 2015, China has become the world's second largest market for the Bosch Group, which is of strategic importance to the Group. Bosch hopes to focus on local customers and end users to create a more localized brand image. This round of corporate brand communication activities will focus more on business-related Midwestern cities, aiming to establish brand awareness and reputation in new cities and lay a solid foundation for future long-term business development.
Passenger Hoist, also known as Construction Elevator, can also be an outdoor elevator, site lift cage.
The work lift is mainly used in various kinds of buildings of urban high-rise and super high-rise, because such building height is very difficult to use the material hoist to complete the work.
Due to its unique box structure, construction personnel can ride comfortably and safely.
Construction Hoist is usually used in conjunction with Tower Crane on site.The normal construction lift has a load of 1-10 tons and a running speed of 1-60m/min.
Passenger Hoist Specification Table: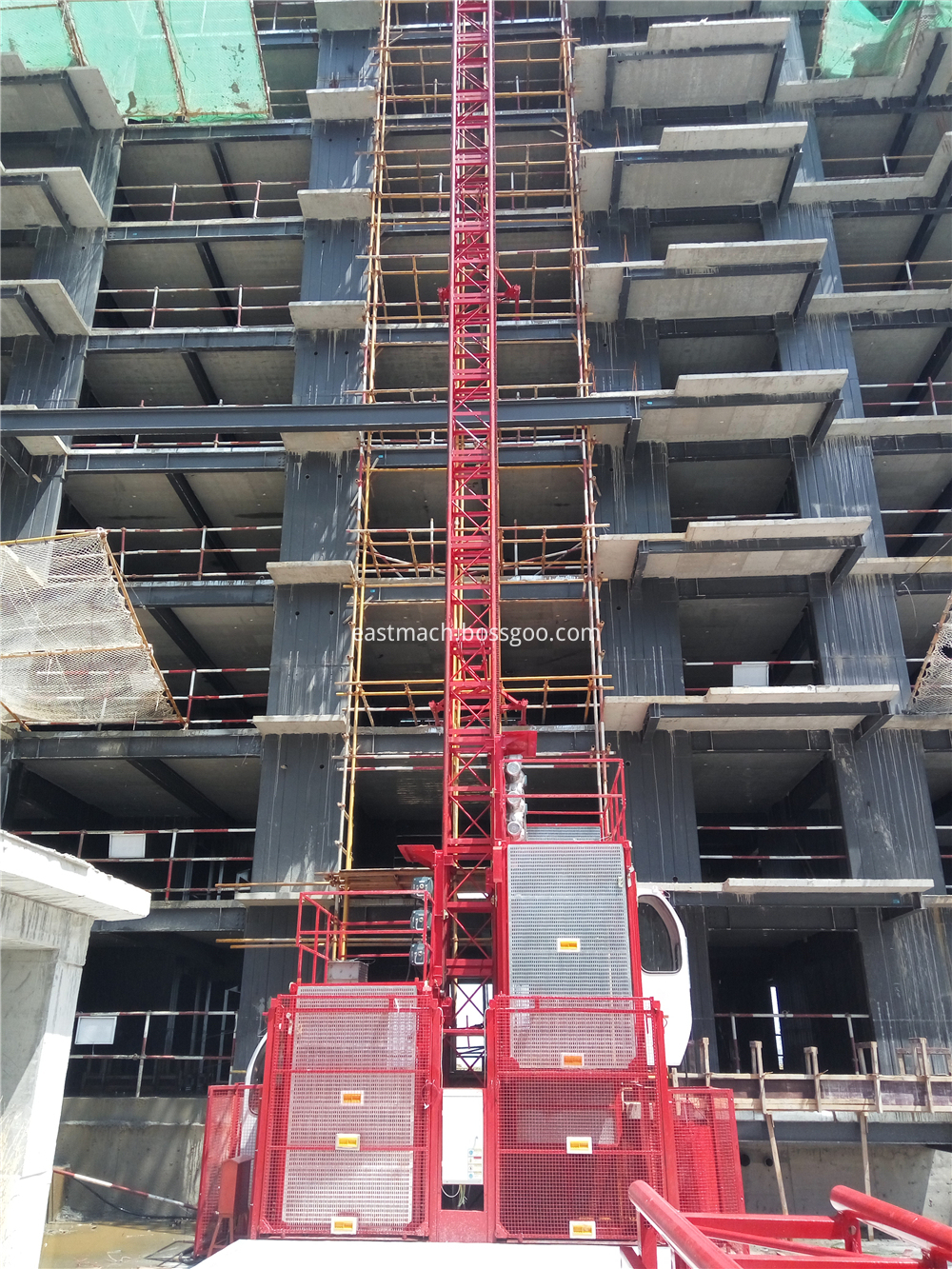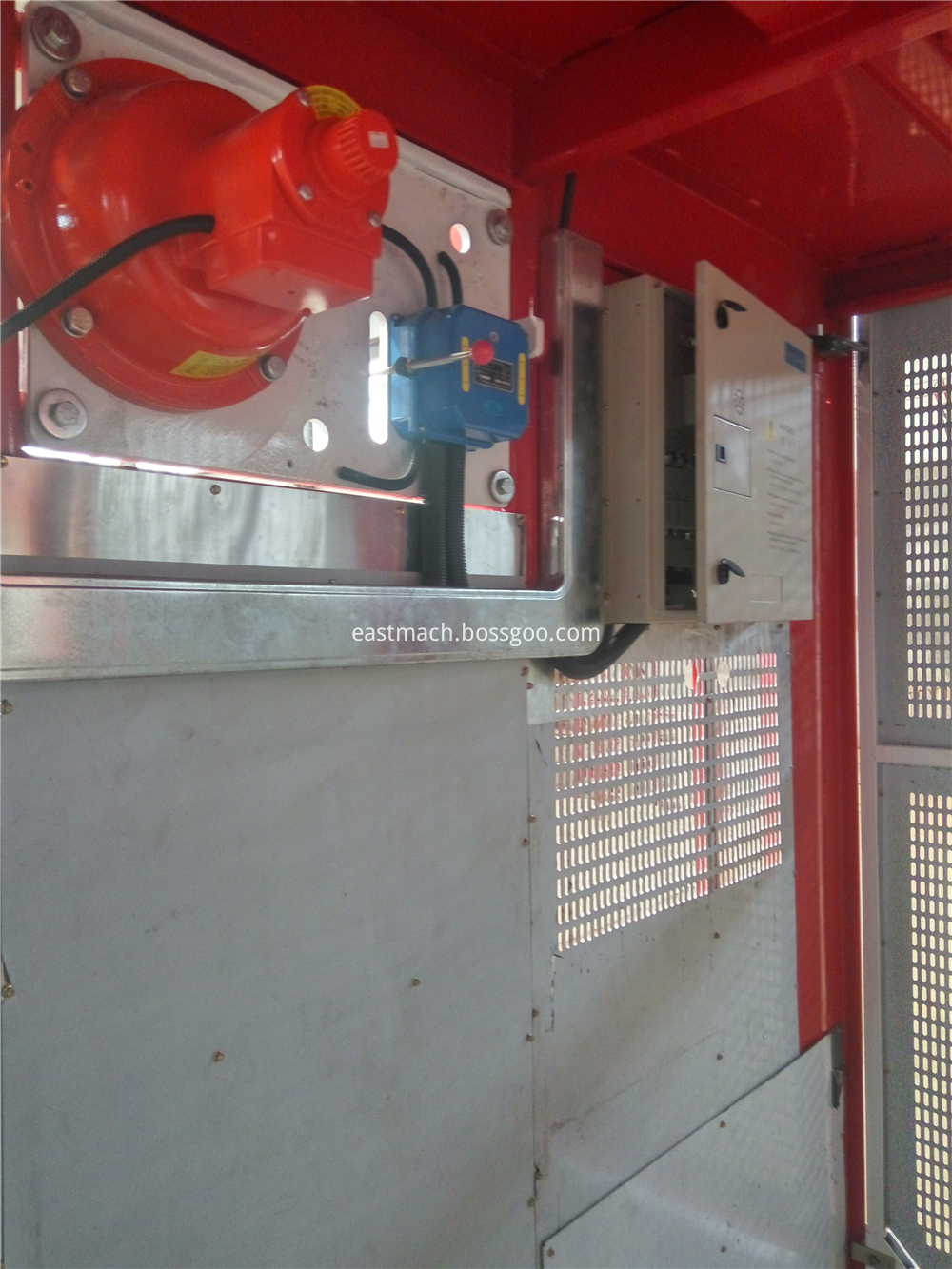 | | | | | |
| --- | --- | --- | --- | --- |
| NO | ITEM | UNIT | SC200/200 | SC100/100 |
| 1 | Rated Load | Kg | 2000/2000 | 1000/1000 |
| 2 | Rated lifting speed | m/min | 33 | 33 |
| 3 | Max lifting height | m | 150 | 150 |
| 4 | Cage size | m | 3*1.3 | 3*1.3 |
| 5 | Cage height | m | 2.4 | 2.4 |
| 6 | Starting current | A | 270 | 270 |
| 7 | Working current | A | 70 | 70 |
| 8 | Power consumption | KVA | 13*3 | 13*3 |
| 9 | Motors power | KW | 11*3/11*3 | 11*2/11*2 |
| 10 | Mast section weight | Kg | 140 | 140 |
| 11 | Weight for 150m height | t | 20 | 20 |
| 12 | Mast section size | m | 1.508*6.50*6.50 | 1.508*6.50*6.50 |
Application Area:
Passenger Hoist is used widely in the construction of manned cargo construction machinery, mainly used in the high-rise building interior and exterior decoration, Bridges, chimneys and other construction.
If you have any questions, please contact with us directly. Passenger Hoist are produced with High Quality and Good Appearance. Welcome you can visit our Factory. For inqury, Please send mail directly to us.
Passenger Hoist
Mobile Tower Crane,Travelling Topkit Tower Crane,Self Erecting Traveling Tower Crane,Topless Travelling Tower Crane Passenger Hoist,Goods Hoist,Building Hoist,Hoist Elevator
Jinan East Machinery Co.,Ltd. , https://www.jneastmach.com