Under the influence of today's increasingly severe economic environment, all walks of life have been greatly impacted. In the face of influence and impact, is it a positive response, looking for a way out, or waiting for it? The practice of Yuhua Aerospace Chemical Co., Ltd. is: Baotuan "winter" to tide over difficulties.
Since the third quarter of this year, under the influence of the US subprime mortgage crisis, the world economy has been severely depressed and has seriously affected the real economy. As a chlor-alkali industry with an annual output of 400,000 tons of caustic soda and polyvinyl chloride, Yuhua Aerospace Chemical Co., Ltd. has encountered unprecedented difficulties: raw material prices remain high, downstream business demand is low, and the gap between production costs and sales prices is gradually increasing. Operation is difficult.
The decision-makers of Yuhua Aerospace believe that under such circumstances, only by facing the reality of the early arrival of "winter", taking measures, actively responding to them, doing well their own affairs, taking advantage of the situation, taking advantage of the situation, and taking advantage of the potentials, can they In the cruel market competition to survive and win development. To this end, the company has adopted measures such as adjusting production load, shrinking operating lines, strict expenses and accelerating the withdrawal of funds, minimizing the influence of unfavorable factors, and achieving the highest operating rate in the industry in the case of general production restrictions and production suspension. , The overall effect has the least impact, achieving the objective of maintaining low profit margins.
"For enterprises to survive and develop, it is not enough to rely on their own strength. It is impossible to compete with the market. Only by joining hands with the downstream enterprises, strengthen cooperation, interdependence, Baotuan 'winter', to bring everyone's resources together and revitalize. Investing in stocks, revitalizing resources, and building a strategic cooperation model can only withstand the invasion of the 'cold stream' and pass through this unusual winter of this year," Xu Hehong, chairman and general manager of Haohua Aerospace, said with deep feelings.
At the end of October, Yuhua Aerospace Co., Ltd. convened more than 100 representatives for users and the financial community to gather in Beijing to jointly discuss the "winter" plan, discuss the measures to cope with and seek common development. Sun Zhenfeng, the representative of the host and deputy general manager of Yunhua Aerospace, said that at this critical moment, it is more important than anything else to strengthen cooperation. Only by working hand in hand, sincerely uniting, working in accordance with market laws, and building an industrial chain platform, can we tide over the difficulties together. In times of hardship, we will let profit sales, capital preservation sales to meet user needs. According to Zhu Weibing, the representative of the householder and general manager of Inner Mongolia Cooperative Company, the chlor-alkali industry should be supported as always, and he would rather bear a part of his losses and try his best to ensure the supply of raw materials. User representative Wang Jun, assistant to general manager of Xinxiang Chemical Fiber Co., Ltd. stated that he would do his utmost to accept Yuhuan Aerospace's products and ensure the sales channel is stable.
They said that a strategic alliance has been formed to ensure the supply of raw materials, product sales, smooth logistics and transportation, timely funding, and jointly create an industrial chain of benefit-sharing, risk-sharing, close-knit, and unbreakable industries. Together, they will respond to current difficulties and emerge from the predicament as soon as possible. .
ChinaHAE is professional supplier in printing field, Continuous Inkjet (CIJ) coding and printers and have set the industry standard for print quality, reliability and versatility for over 10 years.

ChinaHAE different inkjet printers of TIJ Inkjet Coding equipment, DOD Expiration date printing machine, CIJ Pet Jar CIJ inkjet printer selling in over 120 countries. CIJ ink jet coding equipment can print on a variety of substrates including, metal, glass, plastic, paper, and wood.
CIJ inkjet printing machine printing speed is high, and printing height up to 18mm.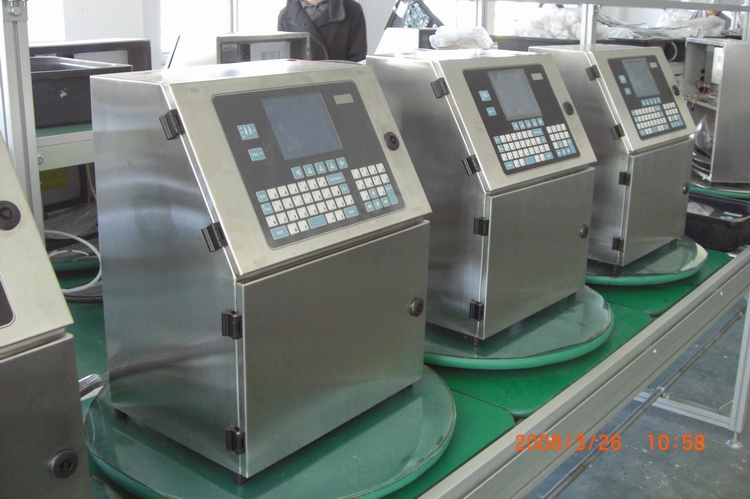 Continuous Inkjet Printer,Inkjet Printer Machine,Computer Inkjet Printer Machine,Automatic Inkjet Printer Machine
Wuhan HAE Technology Co., Ltd. , https://www.whwallprinter.com