Key Word 1:
Toothpick Making Machine
Key Wrod 2:
Toothpick Production Line
Raw Material:
Bamboo or Wood
Transport Package:
Export Wooden Cases
Specification:
ISO, CO, CE, CCC
Production Line Price Bamboo Wood Toothpick Chopstick Incense BBQ Â  Â  Â  Â  Â  Â  Â  Â  Â  Â  Â  Â  Â  Â  Â  Â  Â  Â  Â  Â  Â Stick Making Machine
Bamboo toothpick machine: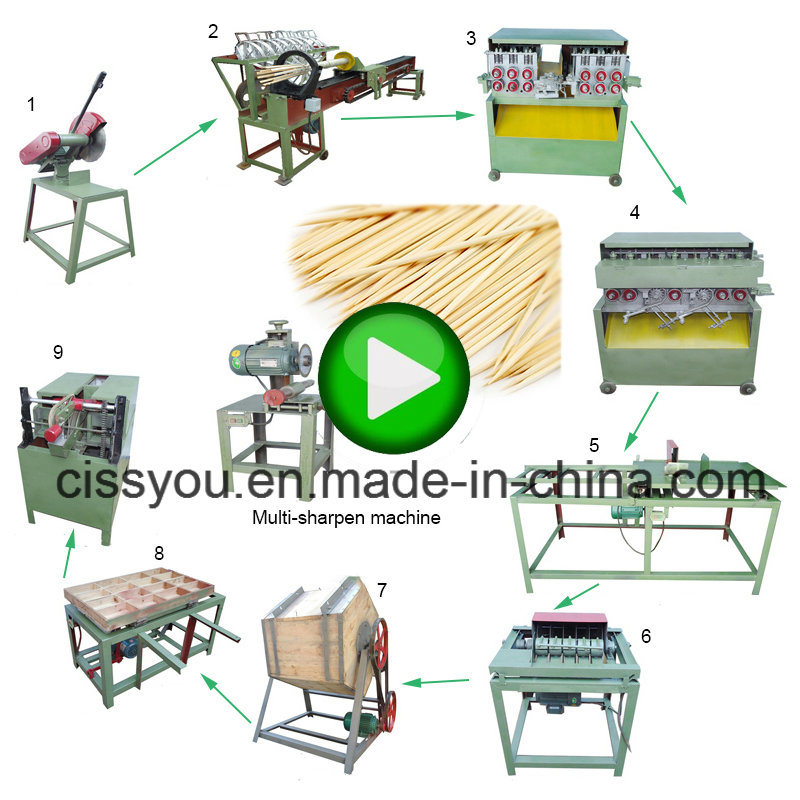 Wood toothpick machine: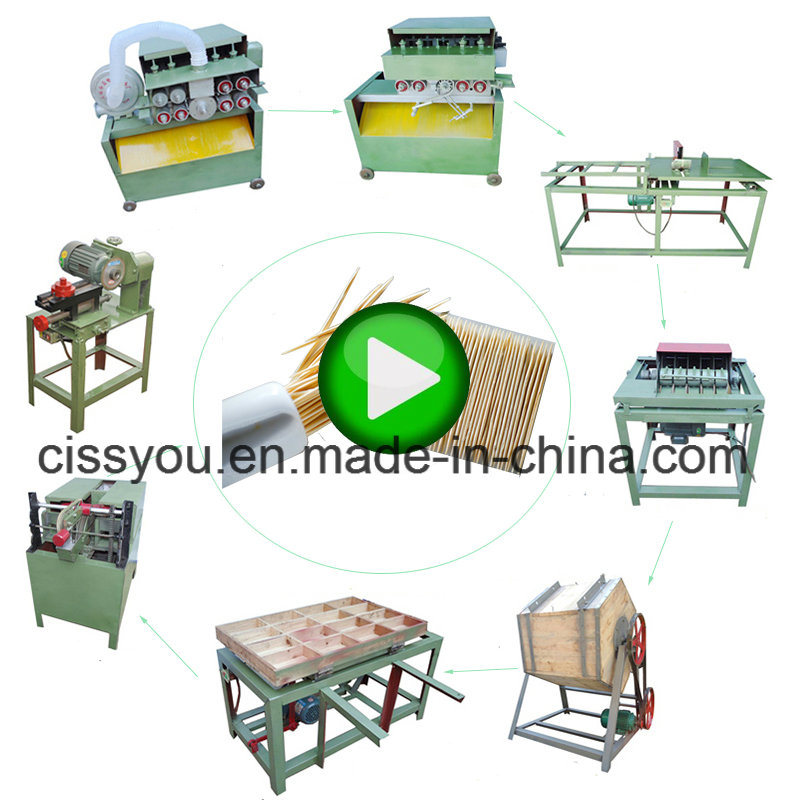 Product Description of the Bamboo Toothpick Stick Making Machine bamboo toothpick production machine Line (WS)
1, Raw Bamboo Sawer
This machine is used to saw raw bamboo. Saw bit can saw the whole raw bamboo into required length. This machine has easy operation\high efficiency\convenient maintain and installment.
2. Bamboo sharpener
This machine is one of the making line of toothpick\chopsticks and food peg wood. It is used to dissect the raw to inquired size. The width and thickness are about 60mm.
3. Fixing width Double sided Trimmer
This machine is one of bamboo toothpick making line. Its main function is to wipe off bamboo joint\refit bamboo brim and split layers. It applies to make required width and thickness of bamboo flake.
4. Bamboo batten drawing machine
This machine is used to draw the slice to wirelike bamboo thread. The threads have the same width and thickness as the toothpick. This machine applies to make bamboo toothpick, food peg wood and so on.
5. Bamboo-wool ruler fixer
This machine applies to set size of wooden or bamboo thread. The length is about 260-300mm. After cutting the thread, the thread can be cutter into toothpick length by toothpick ruler fixer.
6. Toothpick ruler fixer
This machine is used to set size of wooden or bamboo thread. The length is about 65mm, just as the length of toothpick. It consists of fixed clamp\motor \saw bit and foundation bed. The fixed is installed in a removable frame.
7. Reciprocating Polishing machine
This machine applies round toothpick \wood chopsticks\barbecue peg wood and other food peg wood.
The motor pull the hopper back and forth, and then sticks rub each other and become smooth.
8. Aligning machine
This machine is used to put the wood sticks in order. Put the polished wood sticks into the quadrate basket. The basket has many small quadrate grids; The length is the same as sticks. Start the motor, the basket move back and fro, then disorder sticks fall into grids because of inertia and become order.
9. Toothpick polishing machine
The machine is to process wooden and bamboo toothpick. It consists of hopper\feeding gear\ fixed gear\discharging tank\grinding wheel, transmission system with belt and chain. Hopper inside has vibrating sliding plate and on-off board, make material feeding smoothly. It can sharpen one end or two ends of toothpick. This machine install dust absorption system, the dust is expelled automatically.
10. Blade sharper
Blade sharpener is specially designed for grinding carbide saws easily and efficiently. This blade sharpener machine can sharpen flat tooth, tilting tooth, alternate tooth, composite tooth of carbide saw blade and other saw bit.
Item
M odel
Motor power
Overall size
Weight
Wood Slicing Machine
WS BJ-837
8.37kw
1450 ×  750 ×  1200 mm
310kg
Wooden Rod Forming Machine
WS BJ-673
6.73kw
1300 ×  750 ×  1200 mm
380kg
Cutting Machine
 
WS BJ-75
0.75kw
1500 ×  750 ×  1050 mm
170kg
Toothpick Forming Machine
 
WS BJ-337
3.37kw
750 ×  750 ×  1050 mm
185kg
Polishing Machine
 
WS BJ-11
1.1kw
1400 ×  1200 ×  1450 mm
210kg
Aligning Machine
 
WS BJ-55
0.55kw
1100 ×  1100 ×  900 mm
120kg
Toothpick Sharpening Machine
WS BJ-287
2.87kw
1450 ×  800 ×  1200 mm
335kg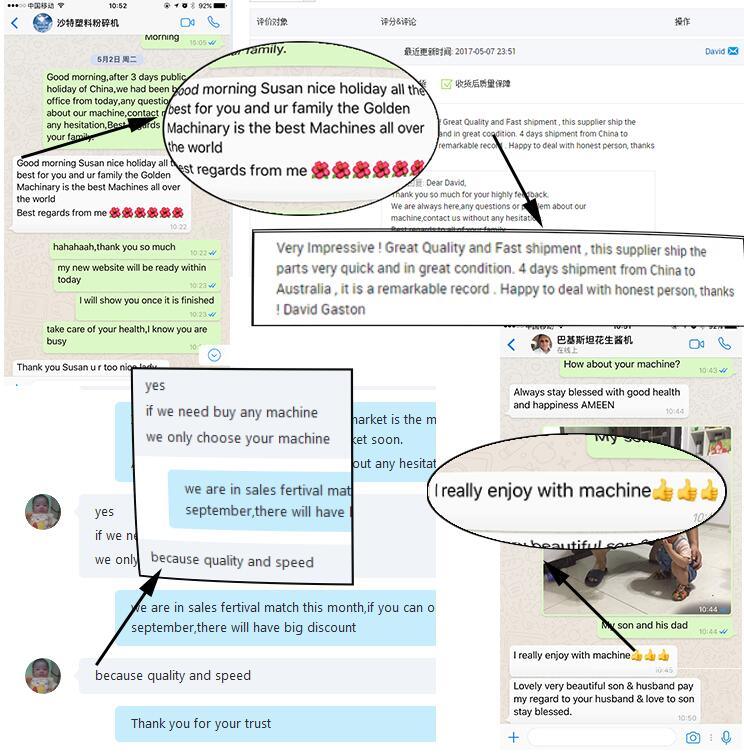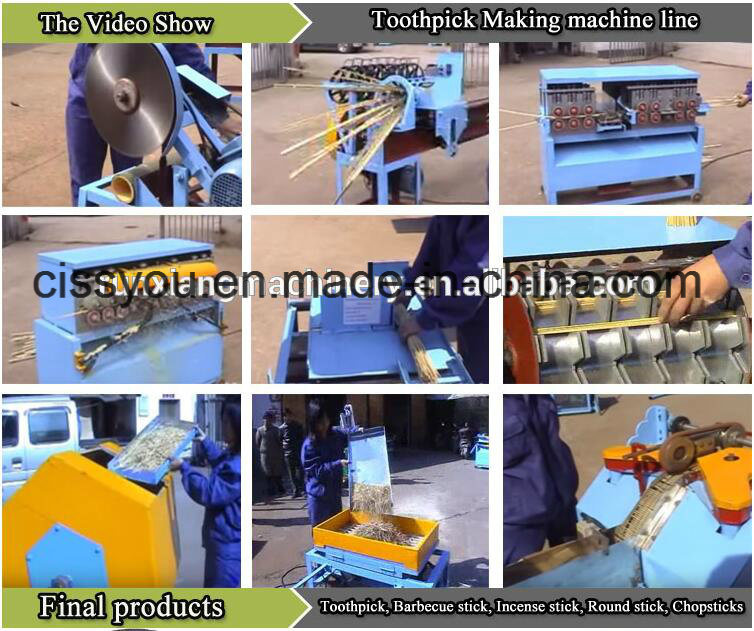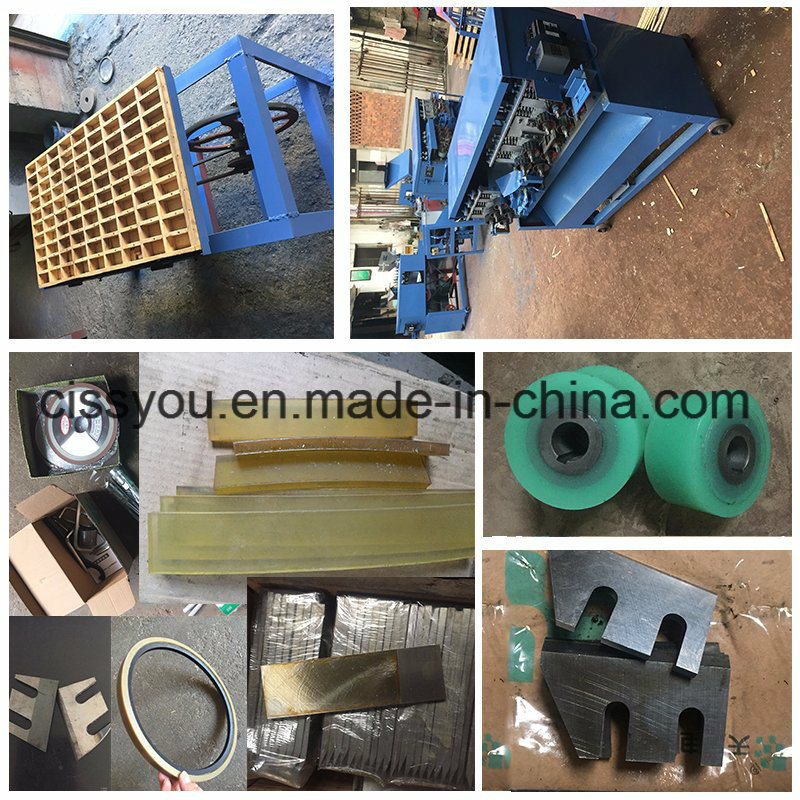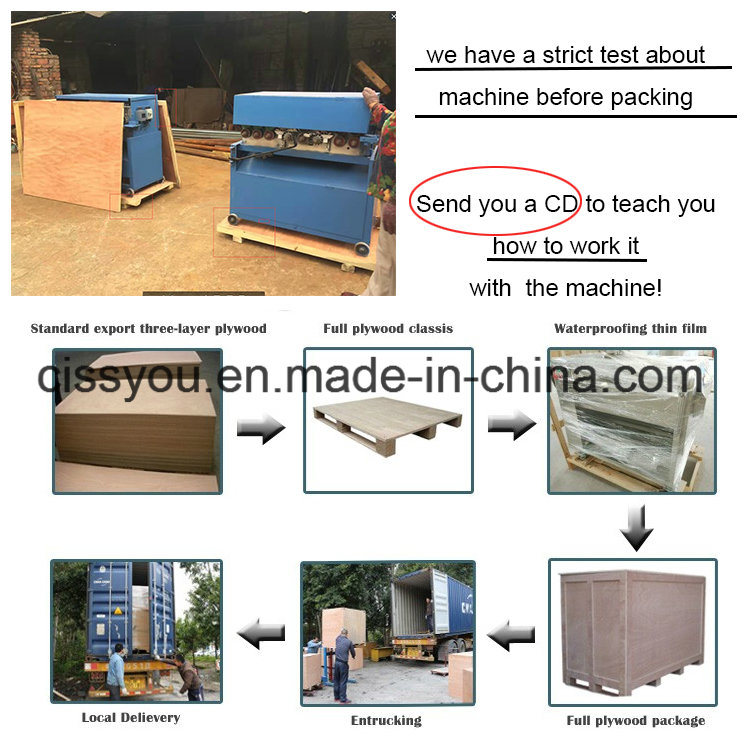 The Towable Pivot Irrigation System is mainly suitable for agricultural irrigation with a long strip and large area. It has the characteristics of economy, high efficiency, ruggedness and easy operation. Taking the width of the cultivated land as the design length of the equipment, the equipment can reciprocate along the length of the cultivated land. Compared with the circular sprinkler, there is no obvious corner of sprinkler irrigation, and it is almost 100% covered. Depending on the number and type of equipment trusses, the irrigation width can reach 384m.
Towable pivot Irrigation System
Towable pivot Irrigation System
Shandong H.T-BAUER Water and Agricultural Machinery & Engineering Co., Ltd. , https://www.ht-bauer.com