On July 6th, the DG970Y rock fork loader of the large-tonnage loader of the German engineering company took off in the rain and rushed to the Jiaodong area. As a five-horse general in the German loader team, the German 970Y rock forklift not only has a tall, mighty shape, but also has a high-end internal configuration.
The engine uses Weichai's new-generation turbocharged high-pressure common rail country III emission engine, with 93 air desert filter, longer wheelbase 3900mm, enhanced drive axle, so that Dejia 970Y rock fork-mounted machine has super power. And lifting capacity, 26.8 tons of weight, but also make the car work stability, bearing capacity, stable performance. The three engines of the country have ensured low emissions, low noise, and low fuel consumption. The energy-saving effect is very obvious.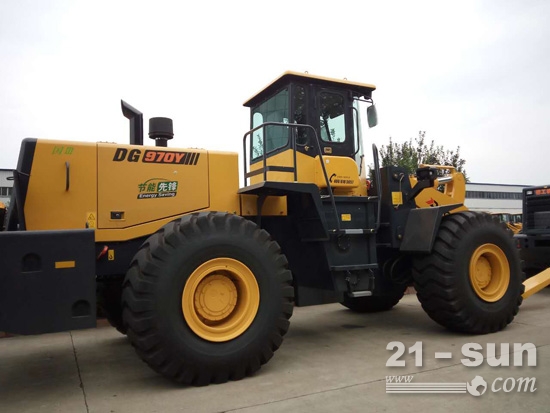 Degong 970Y Rock Forklift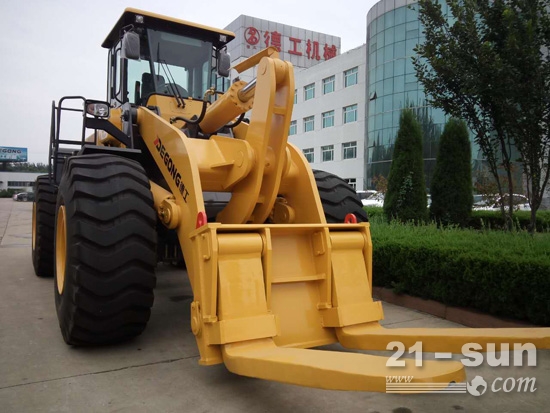 Degong 970Y Rock Forklift

Transmission, torque converter bearings with imported bearings, front and rear 28-level 26.5-25 wide-base tires, 210mm lifting cylinder bore, 125mm steering cylinder bore, long product life, carrying capacity, and strong steering ability.

The boom plate thickness is 60mm, reinforced middle hinge, upper hinged cone bearing positioning structure, high durability, high strength, stable and reliable steering.
Reinforced front frame and rear box frame structure, reinforced cab, high frame strength, strong anti-bend ability, safe and reliable driving.
Three calipers are provided on each side of the wheel and the vehicle is equipped with four forcing pumps and two sets of independent brake lines. Highly reliable braking system with good results.

A series of high-end equipment makes the Degong 970Y rock forklift not only powerful and powerful, but also has super power and powerful lifting force, and the steering is flexible and stable. The thicker boom and reinforced frame structure make this a High strength, strong bending resistance, long working life, good braking effect, safe and stable driving.

Because Deco 970Y has many advantages and superior and reliable performance, it won the favor of many customers, especially some professional mining areas, quarry users, is even more named as long as the staff of the German general. It is believed that Dejiao 970Y's trip to Jiaodong will surely meet the expectations of the customers, exert the power of the generals, and rush into the battlefield to create more value for customers. (This article comes from German workers)
Related news: German engineering loader rock fork loading machine
Chemical Liquid Truck is widely used in the loading and transporting of Oxidizing liquid, Flammable liquid such as acid, Asphalt, Ammonium Nitrate,Milk,beer,etable oil and other corrosive, dangerous medium. The tank material of chemical liquid truck can be selected according of carbon steel, carbon steel lining plastic, stainless steel, plastic tank, aluminum tank, etc.
According to the different transport medium, the chemical liquid truck can be called, hydrochloric acid transport truck, sulfate transport truck, hydrofluoric acid transport truck, formic acid transport truck, acetic acid transport truck, hydrogen peroxide transport truck, phosphate transport truck, ammonia transport truck, sodium hydroxide solution transport truck, hydrogen potassium transport truck, sodium hypochlorite transport truck, formaldehyde transport truck, ethanol transport truck, toluene transport truck, xylene transport truck, isopropanol transport truck, dimethylamine easy transport truck, naphtha transport truck,insulation tank truck.
Chemical Liquid Truck
Chemical Liquid Truck,Chemical Tank Truck,Sulfuric Acid Tank Truck, chemical tank ISO container, insulation chemical liquid tanker,insulation tank truck
Suizhou lishen special vehicle co.,ltd , https://www.ls-truck.com