It is reported that the northwestern region covers important ethnic autonomous regions and provinces and cities such as Shaanxi, Gansu, Qinghai, Ningxia, Xinjiang, etc. It may be because the geographical location is too large, and the differences in the markets in the northwestern region are very obvious. One kind.
The performance is different. The same size and vastness of the Northwest Region, although the market is different, the performance is different, but the same is the same.
â–²The development of the Northwest Lighting Market cannot be ignored.
Taking the comparison between Shaanxi market and Gansu market as an example, although the overall style of lighting products has not changed much in the Shaanxi market, the modern lamp, crystal lamp and European lamp terminal market are the most popular, and the lighting products that are currently integrated into the LED light source have become the local market. New highlights have also become a new growth point for merchants to boost sales performance. According to preliminary statistics, in the Shaanxi market, more than 70 lighting products have been injected into LED light sources.
In the Gansu market, the classical Chinese-style lamps are still widely favored by the market, and the market performances of crystal lamps, European lamps and modern lamps are slightly inferior. At the same time, although local merchants in Gansu have realized that the combination of LED light source and lighting products is an inevitable trend, they are still skeptical about the product quality and market demand of LED lighting products, and therefore are in a state of trial and error.
Overall, the market performance in the Northwest region this year is relatively flat. In terms of product style, the overall change is small; from the perspective of sales performance, it is an ideal situation to be affected by the big environment; from the perspective of brand performance, there are no categories and brands that are eye-catching; In terms of groups, consumer groups are becoming younger and the consumption potential is gradually being stimulated. From the perspective of e-commerce channels, although certain developments have been made, it is still difficult to shake the dominant position of traditional distribution channels, engineering channels and monopoly channels.
It is worthy of recognition that the Northwest Lighting Business has not been sitting still waiting for it, and has begun to actively seek new development ideas, such as actively exploring the second and third level networks and developing core distribution; such as teaming up designers to create customized products and services; , specializing in engineering channels. For the time being, the Northwest Lighting Business has achieved gratifying results through the change.
Shaanxi sales increased year-on-year. 60 Xi'an City Lighting Lighting Manager Chen Yan With the increasing youth and consumer attitudes of European consumers, European lamps and modern lamps are increasingly sought after by the market. At present, the lighting products we sell are mainly modern and European lamps. Since the beginning of this year, in order to cater to young consumers, our products have paid more attention to individualized needs. While enhancing brand services, we have also increased the personalized service of designers and comprehensively improved our sales performance.
In order to further increase sales, this year the company mainly develops for the second and third-level networks, develops core distributors for the municipal market, and establishes a distribution network for the county-level network. Through the development of outlets in the first half of the year, the sales volume has increased by 60 compared with the same period of last year. This year, LED lighting performance is the most eye-catching, we now sell more than 90 lighting products are equipped with LED light source, and is favored by the terminal market.
Lighting style changes are not much natural lighting. Weinan City dealers in the recent years, the lighting industry has almost no bright lights jewelry or lighting brands. However, the lighting market is definitely a market that cannot be ignored.
The lighting products we sell now are based on modern lamps. Compared with previous years, the overall style of lighting we sell has not changed much, but many lighting products incorporate LED lighting. When we select products from manufacturers, we can see that more than 90 lighting products have been integrated into LED light sources this year. LED light source has become a new bright spot in lighting sales. It is also giving the end consumer a new visual experience, and to a certain extent, boosting our sales performance.
This year, the sales of our store's modern lamps increased by 30, mainly due to changes in the consumption concept of young people. More and more consumers understand that lights are more than just lighting products for home life, and more are turned into decorations.
After 80, it became the main force of lighting consumption. TCL lighting, distributor of Heyang County, Wang Haolong, LED lighting has become the main theme of lighting sales. At present, we mainly sell citrine and modern lamps. It has been observed that LED light sources are now used for candle bulbs used in crystal lamps and light sources for modern lamps. Up to now, we have updated 70 lighting products into lighting products that incorporate LED light sources. It is undeniable that with the increasing understanding of LED lighting products, LED lighting products have become more and more popular in the terminal market. In my opinion, LED lighting will become an important part of market sales, whether it is lighting products or light source products.
I also observed that the consumer groups that buy lamps now are mainly after 80s. To this end, manufacturers should produce personalized products based on the consumption needs of young people. At the same time, many young people today choose to buy lamps online, which does have a certain impact on physical store sales.
Gansu LED lighting market demand is not obvious Lanzhou Xinhua lighting general manager Zheng Lemin At present, we mainly operate Chinese and European style lighting products, Chinese style lighting products mainly represented the name of Tanbao and Anima. We mainly used crystal lamps, Chinese lamps and European lamps. Due to the rising demand for Chinese lamps in the local market, sales performance is soaring. Therefore, our store is now turning to Chinese style.
Compared with the same period of last year, our sales volume has declined this year, mainly related to real estate regulation and market vicious competition. In the past year or two, I am still more optimistic about Chinese lamps. According to my observation, customers who like Chinese style are generally between 40 and 50 years old. Customers of this age have certain economic strength and market demand is relatively large.
In terms of LED development, we have not yet touched LED lighting products, but they have also heard and understood. The main reason is that LED lighting products and market demand are still unstable. As e-commerce slowly develops, it also has some impact on us, but the overall impact is small. E-commerce mainly sells some small products, such as table lamps, bedside lamps, wall lamps, etc., other products are more reliable from the physical store.
Chinese-style lamps have become the flagship product. Zheng Xuke, the general manager of Lanzhou BBK Lighting, has a relatively long operating time. We are currently involved in lighting products such as candle lights, Chinese lamps, European lamps, modern low-pressure crystal lamps and other style products. The brands we represent, candle lights mainly involve candlelight family, Jinzhi jade leaf, Chinese lamps include Qiao Ben, Anima, Mingmufang, Yu Tingxuan, Jingde Mingyao and so on.
We used to operate crystal lamps, European lamps and modern low-voltage lamps. With the development of the terminal market and the changes in customer demand, we have turned to Chinese-style lamps for the past one or two years, especially after this year's store decoration. Nowadays, the store is equipped with a variety of styles and styles of Chinese-style lamps to meet the needs of customers with different decoration styles. In particular, some tea houses, villas and bars have a greater demand for Chinese-style lamps. Overall, this year, our sales performance has increased compared with the same period last year. Therefore, I am still very optimistic about the development prospects of Chinese lamps in the local market.
In terms of LED development, lighting products are slower than lighting products. At present, some of the Chinese-style lamps and modern low-pressure crystal lamps that we operate have also begun to adopt LED light sources, but the proportion is not large. The development and rise of e-commerce has a certain impact on the sales of physical stores at this stage, but it has little effect on the operation of high-end lighting brands like ours.
The influence of e-commerce is expanding. Chen Yangpeng, general manager of Jiuquan Huayi Lighting Co., Ltd. Currently, we mainly operate Chinese-style lamps and modern low-pressure crystal lamps, and act as two brands of Jinfu and Zhiduo. Due to the strong demand for low-pressure crystal lamps, the main products are modern low-voltage crystal lamps and some LED lighting products.
Compared with the same period of last year, our sales volume has increased this year, mainly because the demand in the engineering field has been stimulated. However, in terms of lighting products, the current market performance is obviously inferior to that of previous years. Most of the lighting products are similar. In the prefecture-level market, although the brand is also a major indicator for consumers to buy, it is ultimately a success or failure in price theory.
At present, the entire lighting and lighting industry is developing towards the LED field, which is the trend of the times. The same is true for lighting products. At present, some modern low-pressure crystal lamps that we operate use LED light sources. At the same time, as a kind of business model, e-commerce is constantly evolving and developing, which has a certain impact on physical stores. Although it has little impact on us at present, it is believed that this influence will become larger and larger in the future.
Power Company adopts various special glue stock made in USA and Germany to manufacture industrial robber rollers. For printing industry, there are alcohol plate moisturizing rubber roller, UV inker, rubber roller transmitting and sparing ink. For plastic, composite membrane, textile, printing, tin plate printing, food, wood, hollow glass and deep processing of iron and steel, we provide special purpose glue stock with unique performance of high temperature resistance, acid and alkali resistance, organic solution resistance and abrasion resistance.
With the attitude of being professional and sincere, Power Company produces high-quality Rubber Rollers closely following sci-tech requirement of the times. You can be assured that each product is of reliable quality, for we are extremely strict with the production processing of rubber roller. Various working procedures have been added to ensure most reliable quality.
With the tenet of quality first, clients the highest, Power Company provides to you all-round services of rubber rollers, e.g., re-rubbering of shabby rubber rollers, mapping and manufacture of new base gum and corollary services for equipment manufacturers.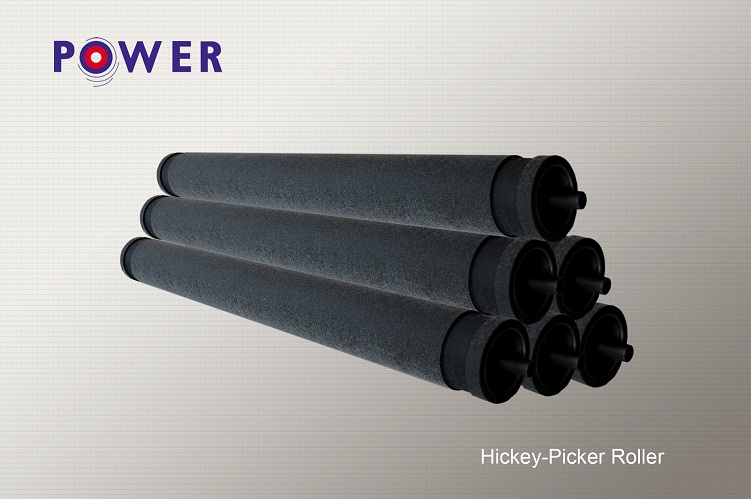 Industrial Rubber Roller,Rubber Roller Used In Industry,Small Rubber Roller,Industry Silicone Rubber Roller
Jinan Power Rubber Roller Equipment Co., Ltd. , http://www.powerrubberroller.com